TPS Reports are a special task that will award Leftovers, a special currency that can be used in the TPS Shop.
Different challenges will be available depending on the day of the week. In the example above, you are only able to complete TPS reports for Hump Day.
A character's level and rarity determine how effective they are at completing TPS reports; so be sure to use your highest level and rarity! Complete the challenge and earn currency that can be used in the TPS shop.
To complete a TPS Report Challenge, click on the TPS icon while in "Office" view and click enter on the available TPS Report challenge. Pick which challenge you'd like to complete and click Enter. 
Each challenge has icons indicating what is required to complete it. Some challenges may require male or female employees, specific rarity, or character levels. Enter the challenge of choice and pick your employees based on the requirements listed. In the screenshot above, the requirements are met to complete the TPS report. 
Auto-Assign will automatically select the best choices available for your TPS Report challenge. Click Execute to put your employees to work on those reports!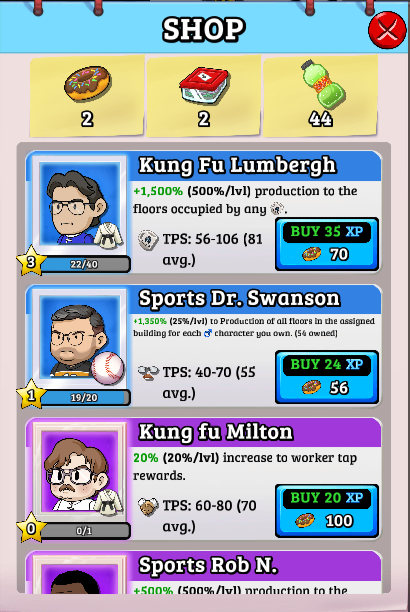 There are three different kinds of TPS currency: Donuts, Leftovers and Energy Drinks.
They can be spent on specific characters available at the time. Each currency will have it's own list of characters you can select, so be sure to save all of them to get the character you want!